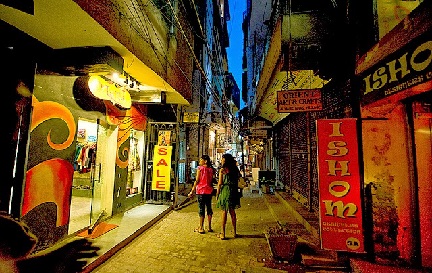 Hauz Khas Village, Delhi
Let us take you to one of the plushest markets of Delhi! Boutiques, art galleries, cafes, restaurants and more greet you when you step inside the rustic bylanes of Hauz Khas village. What makes this market more charming is its...Read more
Let us take you to one of the plushest markets of Delhi! Boutiques, art galleries, cafes, restaurants and more greet you when you step inside the rustic bylanes of Hauz Khas village. What makes this market more charming is its intrinsic village vibes.
Hauz Khas Village (the royal water-tank) was popularly called the national capital of ethnic chic by New York Times correspondent, Barbara Crosette. The medieval village complex adjoining it has been converted into just that. Indian arts, crafts, textiles and designs are wrapped in 21st century shopping bags for elite shoppers and tourists. The mud-plastered shopping kiosks has a 13th century water-tank, a mosque, a tomb and an Islamic seminary for backdrop.
The Village, as the Hauz Khas shopping market is popularly known, comprises old houses converted into air-conditioned boutiques, book stores and showrooms for handicrafts and antiques.
At a time when Hauz Khas was a tiny, little village, renowned fashion designer Bina Ramani decided to set up her shop here. For Bina, it was her "Goa in Delhi". In fact, Bina was the first of the designers to establish a store in Hauz Khas in March 1987.
The others followed suit and voila, it has turned into a fashion and cultural hotspot!
Fashion shopping in the Hauz Khas Village
Besides, the roads are narrow muddy lanes and what little road is available is taken up by the big cars of the shop-owners. Don't mind the sagging electrical cables, potholes and cattle in this popular Delhi market. Because once you step inside the shops, you are transported into another world. A lot of effort has certainly gone into making each shop "differently ethnic".
Designer Wear and Accessories
Further, there is an array of products available for women looking for designer wear and accessories. Ogaan sells hi-fashion apparel from India's leading designers. Prices of some pieces exceed Rs. 1 lakh each. White is well ahead of others. Further, it is the first to stock jeans from J Brand (colored denims – fuchsia, turquoise, red, yellow, purple etc).
Serfontaine and Rock and Republic and the only place where you can pick up a clone of a St Erasmus necklace (a South African luxury jewellery brand). Munkee Doo offers funky clothing and hand-painted sneakers. Nappa Dori has made a name for leather accessories.
Lola's World has children and ladies apparel including Parisian label Nana Ki. Hauz Khas has shops selling European designs with Indian fabric for cotton kurtas, silk skirts, chiffon dresses and pashmina leggings. Check out swimwear and resort wear made from Italian fabric at Shivan and Narresh.
Best Shops in Hauz Khas Shopping Market
This Delhi shopping Market has shops that stand out from the rest. The Indian Popular Art is one such with old Bollywood cinema posters, old calendar art, vintage cards and photos. Another is The People's Project which stocks crafts from artisans and holds regular workshops.
Yet another is Yodakin – a store for non-mainstream books, music, movies and periodicals. Also, Ahaana Organic, a shop devoted to sustainable agriculture and sells organic rice, grains, pulses and herbs. Moreover, the Grey Garden Store is very good as well. It sells Mia Morikawa's accessories label, Kapawow and lifestyle products from Austria.
Chic restaurants in Hauz Khas
In addition,  Khas Village is home to chic restaurants . Flipside and Kunzum are coffee and wi-fi places, Elma's Bakery for tea and scones, and The Living Room for music and food. Do check out The Grey Garden for thin-crust pizzas and also Naivedyam and Gunpowder for South Indian delicacies.
Read our blogs :-
"I can't explain why a bride buys her wedding dress, whereas a groom rents his tux." – Lou Holtz
Top 3 reasons to visit the Designer boutiques in Shahpur Jat for best Lehenga shops in Delhi
Days Open :- Open all days
Timing :- 11 am-7 pm
Bus/Metro :- Haus Khaz bus stop/Green Park metro station, yellow line.
---
194 views